Introduces 3 similar dBpoweramp for Mac for CD ripping, audio conversion of MP3, FLAC, ALAC, M4A, WMA, AIFF, APE, etc.
dBpoweramp is an Windows audio toolkit with two main applications: dBpoweramp Music Converter (dMC) and dBpoweramp CD Ripper. With dBpoweramp you can rip CD, convert audio to lots of audio formats including FLAC, MP3, M4A, Apple Lossless ALAC, AAC, WMA, Wave, AIFF, etc. dBpoweramp supports almost all audio codes with batch conversion and Multi-CPU encoding support as well as support preserving ID tags and Artwork. dBpoweramp is popular used by Windows 8, Windows 7, Windows Vista, Windows XP PC users.
It is disappointed that dBpoweramp right now does not work on any Mac OS X computer. Though Mac users can use Crossover, VMware, or Parallels to install Windows on their Mac to run dBpoweramp. However, it is a little bit complex to install a Virtual Machine in order to run dBpoweramp. Even some users use dBpoweramp through Crossover, VMware, or Parallels, problems always occours with dBpoweramp such as it cannot see the CD-ROM.
Luckily, there are several great Mac programs that work similar to dBpoweramp for Mac OS X to help you fullfill your ripping or conversion tasks. This article introduces 3 popular dBpoweramp for Mac similar and equivalent among macOS Mojave, High Sierra, Sierra, Yosemite, El Capitan, Mountain Lion, Lion, Snow Leopard, Leopard users.
No.1: Xilisoft Audio Converter Pro for Mac
Xilisoft Audio Converter Pro for Mac is the best dBpoweramp for Mac similar which provides professional solutions for CD ripping, CD burning, various audio conversion and various video to audio conversion, as well as advanced features like split, trim, crop, merge, and more.
Key Features
Convert between popular audio formats, including MP3, M4A, WMA, WAV, AAC, FLAC, AIFF, Apple Lossless ALAC, OGG, APE on Mac.
Extract audios from videos/HD videos, including AVI, MPEG, WMV, MP4, MOV, FLV, MKV, H.264/MPEG-4 AVC, AVCHD videos on Mac.
Decrypt, copy and rip audio CDs to popular audio formats on Mac.
Create, burn customized audio CD, MP3 CD and WMA CD from popular audio formats on Mac.
Advanced editing fuctions like split tracks, clip audio segments, add special effects to audio files, adjust a series of parameters including ID3 tags, volume normalize, band pass, chorus, flanger, echo and speed of the output and etc.
Show audio info of size, length, sample rate, sample size, bitrate, artist, title, track, year, genre, etc.
Fully compatible with Mac OS X 10.4(Tiger), 10.5(Leopard), 10.6(Snow Leopard), 10.7(OS X Lion), 10.8(OS X Mountain Lion), 10.9 (OS X Mavericks), 10.10 (OS X Yosemite), 10.11 (OS X El Capitan), 10.12 Sierra, 10.13 High Sierra, 10.14 Mojave.

Buy Xilisoft Audio Converter Pro for Windows $28.76 (20% off authorized discount by Xilisoft) (60 Days Money Back Guarantee)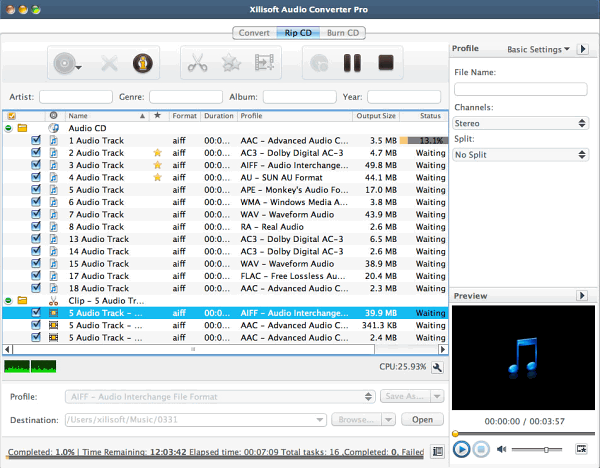 No.2: XLD – X Lossless Decoder
X Lossless Decoder(XLD) is a tool for Mac OS X that is able to decode/convert/play various 'lossless' audio files including (Ogg) FLAC (.flac/.oga), Monkey's Audio (.ape), Wavpack (.wv), TTA (.tta), Apple Lossless (.m4a), TAK (.tak) [Requires Wine, CrossOver Mac or WineBottler], Shorten (.shn) [SHN v3 only], AIFF, WAV, etc. It can convert supported audio files into WAVE, AIFF, Raw PCM, Ogg Vorbis (aoTuV), MPEG-4 AAC (QuickTime/CoreAudio), MP3 (LAME), Apple Lossless, FLAC, HE-AAC (aacPlus v1/v2), Wave64, WavPack, and IETF Opus.
X Lossless Decoder(XLD) is also a CD ripper for Mac. You can convert each track in your audio CD into the desired format. Also XLD supports output a CD image with cue sheet (wav+cue, flac+cue, etc).
In addition, XLD is CUE splitter for Mac. It can split supported audio files into tracks with cue sheet when decoding.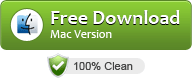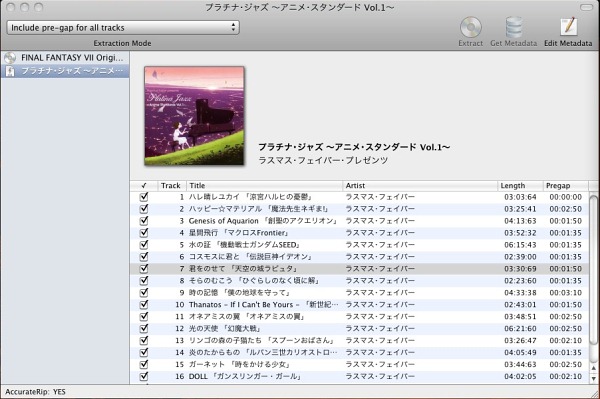 No.3: Max
Max can extract CD and convert the extracted CD in over 20 compressed and uncompressed formats including MP3, Ogg Vorbis, FLAC, AAC, Apple Lossless, Monkey's Audio, WavPack, Speex, AIFF, and WAVE. Max can also convert audio files in over 20 compressed and uncompressed formats at almost all sample rates and and in most sample sizes.
Max leverages open source components and the resources of Mac OS X to provide extremely high-quality output. For example, MP3 encoding is accomplished with LAME, Ogg Vorbis encoding with aoTuV, FLAC encoding with libFLAC, and AAC and Apple Lossless encoding with Core Audio.
It's pity however, Max is never updated since the last update in 29 August 2009.