The Problem
After updating Mac OS X to Mountain Lion, many users found that "Activity Windows" was removed from the latest version Safari 6. The "Activity Windows" makes it possible for YouTube fans to download favorite YouTube videos in FLV format with Safari on Mac OS X. Now, the feature was gone which disappointed many Mountain Lion users.
The Fix to Download YouTube videos in Safari 6 on Mountain Lion
Then, is there no way to download YouTube videos in Safari 6 on Mountain Lion?
The question is absolutely yes. After installing free Safari Extension, you can start download YouTube videos in FLV/Flash with Safari on Mountain Lion like usual.
Step 1: Install FastestTube Safari Extension
Open Safari and go to Kwizzu.com. Click on the button of "Install".
Step 2: Go for any YouTube videos
Step 3: Start Downloading YouTube videos in Safari 6 on Mountain Lion
Right below the video, on the right side of the "Share" button, there will now be a "Download" button that will allow you to select which format you would like to download the video in. It could not get any simpler than this! If you need help with this step, take a look at the screenshot below, it should be able to help you!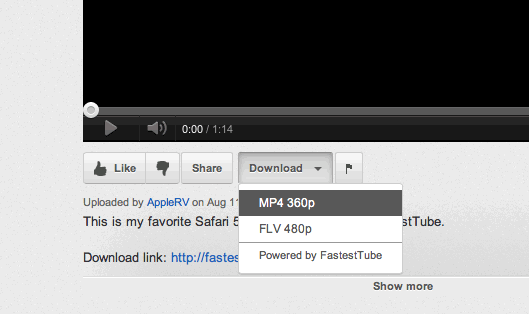 Conclusion
By installing FastestTube Safari Extension you can now download YouTube videos in stand definition even high definition 720 or 1080p in Safari 6. However, this trick does not increase the download speed of YouTube videos and will not convert the downloaded YouTube videos to wanted format with optimized specs. You can refer to this step-by-step guide to one step download and convert YouTube video on Mac, Snow Leopard, Lion and Mountain Lion.
Related Articles
How to Fast Download YouTube Video on Mountain Lion?
How to Import YouTube to iTunes on Mountain Lion?