Easy Convert APE File to Apple Lossless ALAC on Mac or Windows
Overview
" Converting .ape to Apple Lossless
How the hell do I convert ape files to Apple Lossless (and then import them into iTunes) on a Mac? "
"I like ape as a lossless format, but it's lack of hardware support (as it's a codec not really designed for portables) has been more then annoying. Is there anyway to convert it to Apple Losseless without losing my tags? (Does anyone one know if apple losseless is really a bit for bit indentical copy like APE, I know FLAC trashes riff chunks if it has them)."
APE is short form for Monkey's Audio, a audio codec for for lossless data compression of digital music. Apple Lossless, also known as ALAC (Apple Lossless Audio Codec) is also a compressed lossless audio format developed by Apple Inc.
APE audio files are not natively supported by Apple Mac and Apple devices, to play Ape on Mac or import to Apple devices without any quality loss, we will need to convert APE to Apple lossess ALAC audio format.
This article will guide you step-by-step to convert APE to Apple lossless ALAC for easily play APE on Mac, import APE to iTunes and transfer to iPod, iPad, iPhone.
Step-by-Step guide to Convert APE to Apple Lossless ALAC
Step 1 Download, install and run APE to ALAC Converter
4Media Audio Converter is a powerful APE file converter for APE conversion. It can convert APE to Apple Lossless ALAC or Apple loss M4A, and convert APE to other lossless audio like AIFF, FLAC and WAV, convert APE to any other audio formats, as well as convert between all popular audio formats.
In addition, with APE to ALAC Converter, you can merge, trim, split APE audio files, adjust audio bitrates, quality and volume to customize output audio and more.
Step 2: Add APE to APE to Apple Lossless Converter
Locate the APE files or the folder where the APE files are and drag and drop them to the program interface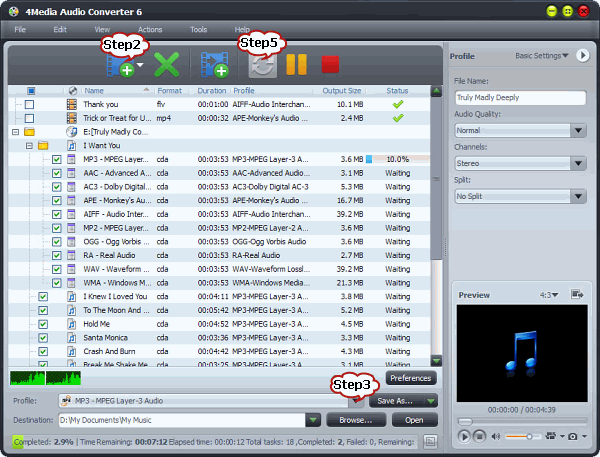 Step3: Set output profile
Click "Profile" Drop-down. From "Lossless Audio Format" category, choose "ALAC – Apple Lossless Audio Codec(*.m4a)" as the output profile.
Click "Browse" to specify the destination folder.
Step 4: Split large Single album APE files (Optional)
If your APE files is a single APE file containing album of songs, you may want to split the long songs to separate songs.
If you have a CUE file attached with the APE file, you can split the APE file based on the CUE file with APE to Apple Lossless Converter.
To split APE files with CUE, in the task list, select the APE file and right click the mouse (Widows user) or press Ctrl and click the mouse (Mac users) to open the context menu. Click "Split by Chapter" in the context menu in the task list. The APE files will be automatically split to separate tracks.
Step 5; Start ALAC to Apple Lossless ALAC conversion
Click on "Convert" button at the bottom of the Converter to start APE to Apple Lossless conversion.
Conclusion
It is just that easy to convert APE to Apple Lossless audio with the smart APE to Apple Lossless Converter. Once you've finished the conversion, you can add the converted files to iTunes, sync to iPod, iPhone, iPad to enjoy the incredible quality music that lossless audio codec brings to you.
Resources

Download 4Media Audio Converter for Windows 31.36 MB

Download 4Media Audio Converter for Mac 44.3 MB