Convert WTV to iPhone 5 MP4, MP4 HD to for Easy Play WTV on iPhone 5
Do you record favorite television shows, movies or sporting events with Windows Media Center and want to watch them on the cool retain display iPhone 5 during meeting break or class break or at any time you want?
Unfortunately, the recordings of Windows Media Center are in .wtv format which is not a native support format by iPhone 5. To play WTV on iPhone 5, you will need to convert WTV to iPhone 5 supported MPEG-4 or HD H.264 MPEG-4.
This article includes an easy guide to convert to play WTV on iPhone. Keep on reading. It's that easy to watch WTV on iPhone 5.
Prepare: Free download WTV to iPhone 5 Converter – WTV Converter
Step 1: Load WTV files to WTV to iPhone 5 Converter
Press on the button of "Add file" to add WTV files to the program interface. The WTV to iPhone 5 Converter supports adding files by drag & drop. You can also drag and drop multiple files or folders where your WTV files are to add files to the program<.p>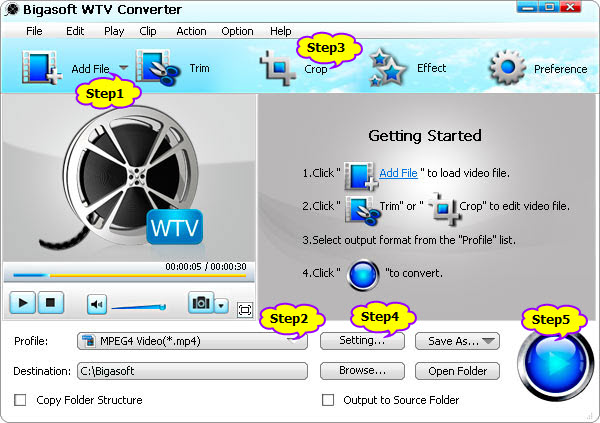 Step 2: Set output format
In the profile drop-down, choose "iPhone MPEG-4 Video (*.mp4)" or "iPhone H.264 Video (*.mp4)" as the output format.iPhone H.264 Video (*.mp4) will give much smaller file size than iPhone MPEG-4 Video (*.mp4) given the fact that the video quality is the same.
If your original files are WTV HQ/HD 1080p or 720p, to play 1080p/720p WTV on iPhone 5, select the output prorile as "HD H.264 iPhone 5 video(*.mp4)".
Step 3: Basic edit WTV before conversion (Optional)
"Trim" allows you to cut out the commercial parts of a certain WTV files. Then you can merge the kept parts into complete one file by "Merge Selected into One" option.
"Crop" allows you to crop out the unwanted area, black bars to focus video
"Advanced Setting" allows you to set advanced parameters. Click on the "Setting…" to open the advanced setting windows where you can adjust video resolution, bitrate, audio bitrate, volume, audio codec ,etc. If the WTV files are interlaced file, you can deinterlace it by setting "Deinterlace" into true in the "Expert" setting.
Step 4: Convert WTV to iPhone 5 format
Click on "Convert" button to start converting WTV to iPhone 5 video.
Step 5: Play WTV on iPhone 5
When the conversion is finished, connect your iPhone 5 to your computer and open iTunes, then transfer the converted WTV videos to iPhone 5 with iTunes! Now you can watch recorded WTV shows, movies, sports, events, etc on iPhone 5 wherever you are and whenever you want! Enjoy it!