How to successfully play MP4 in PowerPoint 97/95/2000/2002/2003/2007/2010/2012/2013/2016?
Will PowerPoint play MP4 files?
According to Microsoft PowerPoint official website, PowerPoint can play MP4 files with the condition that MP4 file to be Apple QuickTime MP4 movie as well as with the Apple QuickTime player installed. Another issue is that PowerPoint 2010 64-bit version is not compatible with 32-bit versions of QuickTime; you must install a 64-bit version of QuickTime or Flash, or a 32-bit version of PowerPoint 2010. So, no matter you uses PowerPoint 2012 or early version of PowerPoint, sometimes you will encounter the issue that "Can't insert MP4 to embed MP4 to PowerPoint", let alone to play MP4 in PowerPoint successfully.
How to Successfully Solve "Can't insert MP4 to Powerpoint" Issue on Windows or on Mac
In order to insert MP4 to any version of PowerPoint for playing MP4 successfully, we had better convert MP4 to PowerPoint more friendly video format! Through the practice: MPEG (MPG) is the most compatible video format which can work well with PowerPoint for both Windows and Mac version; WMV is well supported by PowerPoint for Windows; MOV is well supported by PowerPoint for Mac.
Guide to Convert MP4 for Successful Insert and Embed MP4 to PowerPoint on Windows or Mac
This article introduces a step-by-step guide on how to convert MP4 to PowerPoint Presentation compatible format on Windows or Mac with the help of Aiseesoft Total Video Converter. Then it is dead easy to insert and embed the converted MP4 to PowerPoint for easy play.
This guide applies to:
Convert and play MP4 files in any version of PowerPoint Presentation including PowerPoint 2016, 2013, 2010, 2007, 2003, 2000, 2002, 2005 or even PowerPoint 95, 97.
Convert Flip MP4 to PowerPoint compatible format for easy insert and play
Convert MP4 video from iTunes to PowerPoint for easy insert MP4 into PowerPoint
Convert MP4 files from QuickTime/iMovie/iDVD to PowerPoint supported video format
Convert MP4 from iPad/iPhone/iPod to PowerPoint supported format
Convert MP4 downloaded from YouTube or other websites to PowerPoint
Convert MP4 to PowerPoint supported MPEG, WMV, MOV, AVI, ASF, SWF
Convert and play other video formats including FLV, F4V, SWF, H.264, MKV, 3GP, RMVB, WebM, VOB, DV and more in PowerPoint Presentation
Free Download Total Video Converter
Free download Total Video Converter (Windows Version, Mac Version), and run it.
Step 1: Load MP4 file to program
Click "Add Video" button to add your MP4 video which you want to play in PowerPoint to Aiseesoft Total Video Converter; or simply drag and drop your MP4 video to the main interface of this MP4 to PowerPoint Converter.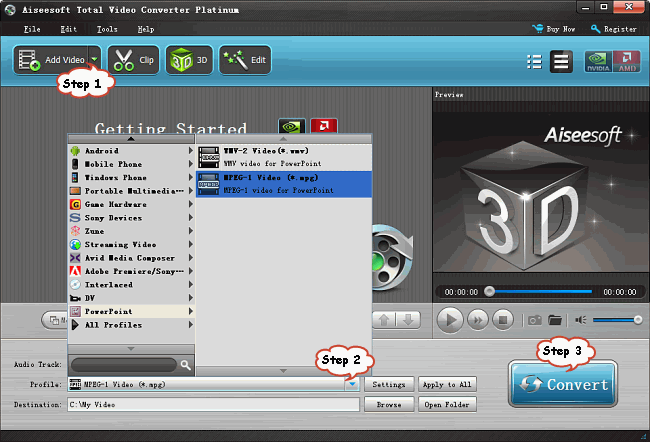 Step 2: Set output video format
Click the drop-down button on the right side of the "Profile" button to select PowerPoint supported MPEG-1 Video (*.mpg) as output format from "PowerPoint" category. (This format works well with both Windows and Mac version of PowerPoint).
Tips:
If your computer is Windows version, you can also select WMV, AVI, ASF as output video format, if your computer is Mac version, you can also select MOV as output video format from "General Video" category.
Step 3: Convert MP4 to PowerPoint MPEG-1 or WMV or MOV
Click "Convert" button to finish converting MP4 to PowerPoint MPEG-1 or WMV or MOV.
Step 4: Insert to Embed MP4 to PowerPoint
Before beginning to insert MP4 to PowerPoint, you need to create a folder and put both your converted video and your PowerPoint presentation in this folder. Then open the PowerPoint in this folder to insert the converted video file which is just located in this folder.
For PowerPoint2003:
View the appropriate slide in normal view where you want to insert the converted video.
Go to the Insert menu, point to Movies and Sounds, and then select Movie from File. An insert movie dialog will pop up where you need to search for and insert the converted file.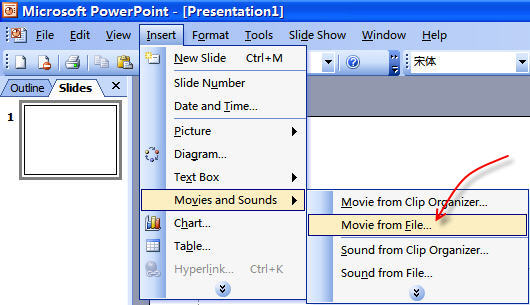 Then an alert box pops up asking "How do you want the movie to start in the slid show?" To play the movie automatically, click automatically. To start your movie by clicking the mouse, click When Clicked.

For PowerPoint2007/2010/2013/2016:
View the appropriate slide in normal view where you want to insert the converted video.
Click on Insert tab and select Movie to insert video into PowerPoint just as in PowerPoint 2003.