There are many reasons that cause the issue "the default DVD Player not working on Mac" in macOS Monterey, Big Sur, Catalina, Mojave, High Sierra, Sierra, EL Capitan, Yosemite, Mavericks, Mountain Lion, Lion, Snow Leopard, Leopard.
Bad or damaged superdrive. If your DVD drive is bad or damaged, the dvd player program will not be open. You will need to repair the DVD drive or purchase a new one in order to watch DVD movies on Mac.
System issue usually after upgrading to Big Sur, Catalina, Mojave, High Sierra, Sierra, EL Capitan, Yosemite, Mavericks, Lion or Mountain Lion. Try to reset the computer's SMC to see if your DVD player can work on Mac or not.
Region issue with commercial DVDs. You can repair disc permission to solve "DVD player not working on Mac" issue.
DVD is scratched or dirty. If your DVD is scratched or dirty, your dvd player can accept discs but they do not mount or are automatically ejected. The default DVD player is very sensitive to the quality of DVD disc, if your DVD is scratched or dirty, you can try a third party free DVD player like VLC or paid DVD player.
Unsupported DVDs such as Blu-Ray discs, some commercial DVDs. If your DVD discs are not supported, your dvd player app will go to a black screen and then unexpectedly quit.
In most cases, your DVD player is not working because your DVD discs are in unsupported DVD formats. The default DVD player does not support playing Blu-Ray discs, certain commercial DVDs. You will need a third party DVD/Blu-Ray player to enjoy movies on your Mac. This article introduces a best DVD/Blu-Ray player for Mac OS X and guides you on how to play Blu-Ray/DVDs on your Mac. If resetting the computer's SMC, repairing disc permission cannot solve "DVD Player Not Working on Mac" issue, and VLC cannot play your damaged or dirty DVDs, you can also download the DVD-Blu-Ray player in this article to see if it can help you out.
About Aiseesoft Blu-Ray Player for Mac
Aiseesoft Mac Blu-ray Player, one of the best Blu-ray and video playing application for Mac users, can bring users amazing Blu-ray movie watching experience. This software is able to play most popular Blu-ray disc, Blu-ray folder and Blu-ray ISO image files with wonderful image and sound quality.
In addition, the Mac Blu-ray Player enables users to play nearly all video files, like MP4, MOV, AVI, FLV, MTS, MXF, etc with best video/picture/sound quality.
Aiseesoft Blu-Ray Player for Mac is fully compatible with Mac OS X 10.4(Tiger), 10.5(Leopard), 10.6(Snow Leopard), 10.7(OS X Lion), 10.8(OS X Mountain Lion), 10.9(OS X Mavericks), 10.10(OS X Yosemite), 10.11 EL Capitan, macOS 10.12 Sierra, macOS 10.13 High Sierra, macOS 10.14 Mojave, macOS Catalina, macOS Big Sur and macOS 12 Monterey.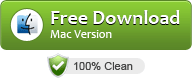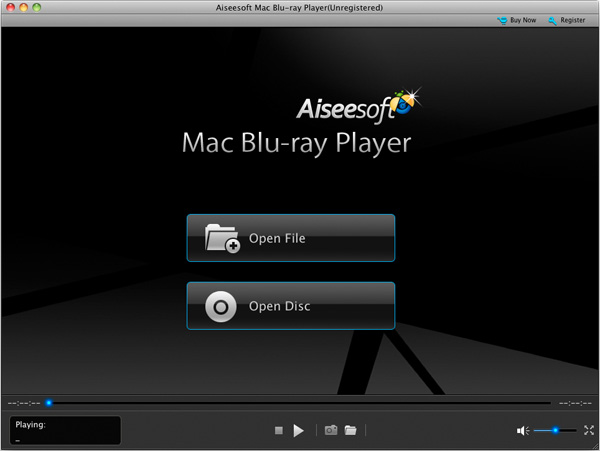 How to play Blu-Ray disc on Mac?
Step 1: Free download Aiseesoft Blu-Ray Player for Mac
Download and install Aiseesoft Blu-ray player for Mac. Run this Mac Blu-ray player application.
Step 2: Open Blu-Ray disc
There are two buttons on the interface of the player. Click "Open Disc" button to movies from Blu-Ray disc or click "Open File" button to load video file from hard drive.
Step 3: Play Blu-Ray movies
When movie is loaded, you can play Blu-Ray movies with outstanding and perfect video quality.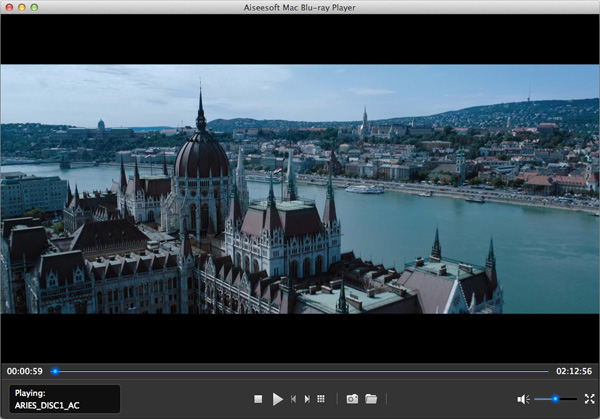 Resource
How to Repair Disk Permissions on Mac OS X?
Log in to your Admin account.
Quit (Command-Q) any applications that opened automatically as specified in your account's Login Items (Leopard, Tiger, Jaguar) or Startup Items (Panther).
Open Disk Utility, located in the Macintosh HD > Applications > Utilities folder.
Select your Mac OS X startup disk. This is normally the volume Macintosh HD.
Click the First Aid tab in the Disk Utility window.
Click the Repair Disk Permissions button on the First Aid tab. The Repair Disk Permissions process is performed.
Determine if Repair Disk Permissions completed successfully.
What is Mac DVD Player?
With DVD Player, you can watch DVD movies right on your Mac computer. If your Mac doesn't have a built-in optical drive, you can use an external Apple USB SuperDrive with DVD Player.
DVD Player lets you control your viewing experience just as if you were using a full-featured remote control with a standalone DVD player. It remembers where you stopped viewing a DVD and gives you the option to resume play at that point. You can bookmark your favorite scenes for viewing at any time, restrict access to certain DVDs using parental controls, and play media stored on your hard drive.
With DVD Player, you get the same controls you'd find on a DVD player remote control, including standard playback controls, navigational buttons, volume, chapter skip, menu, slow motion, subtitles, audio, camera angle, and more. You can also choose to view a movie in one of three window sizes, or view it in full screen. Here's how to use DVD Player to access and play content on a DVD movie disc.
Related Articles
Cyberlink PowerDVD for Mac: Play Blu-ray,3D Video&HD Movie on OS X
Easy Solve PowerDVD Won't Play Blu-Ray Problem?
How to Play Blu Ray Files/Disc in macOS 10.12 Sierra?