Core Audio Format with .caf extension, is a container for storing audio, developed by Apple Inc. to overcome limitations of older digital audio formats, including AIFF and WAV. A CAF file is not limited to 4GB file size like older digital audio formats. Soundtrack Pro and Logic Studio use the .caf format extensively for their loop and sound effects library, particularly for surround-sound audio compressed with the Apple Lossless codec.
AIFF is the standard audio file format used by Apple for storing high-quality (CD-quality ) audio data for personal computers and other electronic audio devices. AIFF files are more commonly seen as .AIF on Windows systems.
Because of the format compatiblity of CAF and AIFF with the Apple devices and the Apps on Mac OS computer, sometimes we will need to convert CAF to AIFF. This article includes a detailed instruction to convert CAF to AIFF, convert 24bit CAF to 24bit AIFF, convert CAF 5.1 (6 channels) to AIFF 6 channels.
Step-by-Step Guide on How to Convert CAF to AIFF/24bit AIFF on Mac/Windows(Windows 10 and Big Sur supported)
PrePare: Free download CAF to AIFF Converter
Free download CAF to AIFF Converter(for Windows, for Mac). Install and launch the program.
Step 1: Import CAF to CAF to AIFF Converter
Press on "Add File" button to load your source audio file to the program. You can simply drag & drop your audio files to load to the audio converter.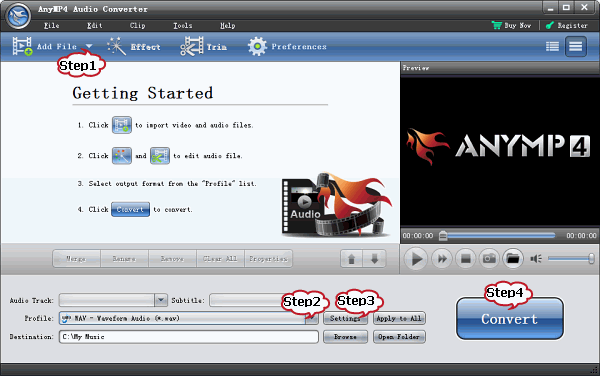 Step 2: Set output format to AIFF
Click on "Profile" drop-down. In the "General Audio" category choose "AIFF – Audio Interchange File Format (.aiff)" as the output format.
Step 3: Customize Audio settings
Click on "Settings" to open "Profile Settings" window. In the "Encoder" drop-down under "Audio settings" section, choose "AIFF 24bit" as the encoder
To convert CAF 5.1 channel to AIFF 5.1 channel. From "Channel" drop-down choose "5.1 channels".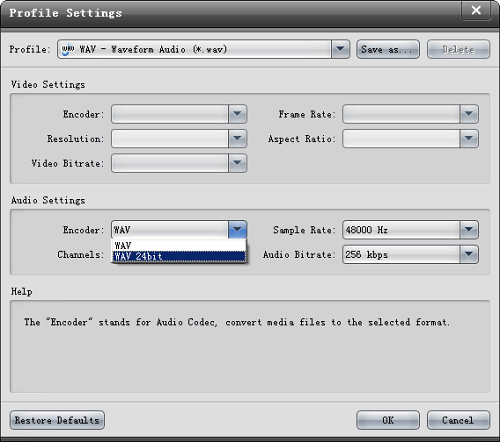 Step 4: Start CAF to AIFF Conversion
Press on "Convert" button to start converting converting CAF to AIFF/24bit AIFF/AIFF 5.1 channel.