Sometimes we need to import audio clips to Adobe Premiere Pro to enhance our working flow. What audio formats can Adobe Premiere Pro import?
According to Adobe offical site, Adobe Premiere Pro can import lots of compressed and uncompressed audio formats including MP3, WAV, AAC, AC3 (including 5.1 surround), AIFF, ASND (Adobe Sound Document), BWF (Broadcast WAVE format), M4A (MPEG-4 Audio) and WMA (Windows only). Adobe Premiere Pro will not import audio in other audio formats such as FLAC, CAF, OGG, Apple Lossless ALAC, APE, VOX, 3G2, AUD, MP2, etc.
Why Fail to Import MP3, WMA, FLAC, CAF, APE, OGG, ALAC, etc to Adobe Premiere?
Adobe Premiere is sensitive to audio formats and audio sample rate. If supported compressed audio files are improted, such as audio in MP3, WMA, AAC, M4A, AC3, are imported, Adobe Premiere will conform the audio to editting audio in coresponding sample rate to the sequence that will be used in. Adobe Premiere will conform audio in uncompressed formats that were not recorded in a natively supported sample rate. Premiere Pro will not conform audio in uncompressed clips when you use these clips in sequences with matching sample rates.
Premiere Pro natively supports audio sample rates are 8000 Hz, 11025 Hz, 22050 Hz, 32000 Hz, 44100 Hz, 48000 Hz or 96000 Hz.
That's way many people successfully use MP3 or WMA files, however some people experience problems. The fact is that MP3 or WMA is a highly compressed audio format which may be compressed with a sample rate Adobe Premiere does not natively support. In this case, converting MP3 to standard WAV before importing into Premiere Pro will solve the probelm.
To import Adobe Premiere unsupported FLAC, CAF, OGG, ALAC, APE, etc to Adobe Premiere, you can convert the audio to Adobe Premiere natively editting format WAV or AIFF at Premiere Pro natively supported sample rates which match with your sequences for fast import without confirming process.
How to Convert MP3, WMA, FLAC, CAF, OGG, APE, ALAC to Adobe Premiere Natively Supported WAV or AIFF and Sample Rate
PrePare: Free download the powerful Audio Converter
Free download the powerful Audio Converter(for Windows, for Mac). Install and launch the program.
Step 1: Import the Premiere Pro unsupported audio files
Press on "Add File" button to load your source audio file to the program. You can simply drag & drop your audio files to load to the audio converter.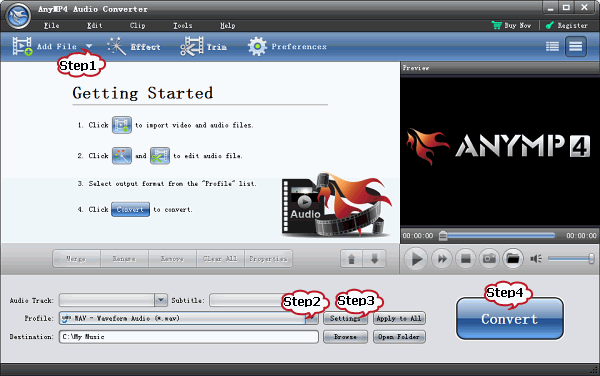 Step 2: Set output format to WAV or AIFF
Click on "Profile" drop-down. In the "General Audio" category choose "WAV – Wave Audio Format (.aiff)" "AIFF – Audio Interchange File Format (.aiff)" as the output format.
Step 3: Customize Audio settings
Click on "Settings" to open "Profile Settings" window. In the "Sample Rate" drop-down under "Audio settings" section, choose coresponding sample rate to your sequence in Adobe Premiere.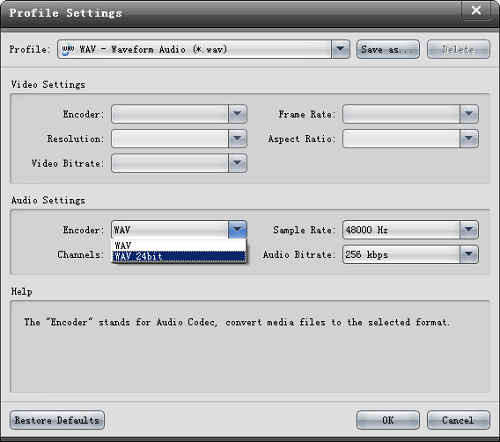 Step 4: Start conversion
Press on "Convert" button to start converting your source audio.
How to Import MP3, WMA, CAF, FLAC, OGG, ALAC, etc to Adobe Premiere?
When conversion is finished, on the Adobe Premiere, select File > Import from the main menu. Locate and select the converted audio file, then click Open. The file will be immediately added to the Premiere Project window.
Related Articles
Export GarageBand to MP3, WAV, FLAC, WMA, OGG, AU, AC3, MP2, ARM
Import Audio MP3,CAF,WAV,APE,RA,FLAC,OGG,WMA to GarageBand ('11/iOS)