Comparing with the iOS iPhone, the Android Samsung Galaxy makes a big progress by supporting many more audio formats, epecially the support of FLAC playback. Audiophiles loves this feature very much as they now can enjoy lossless FLAC audio on their phones. However, Samsung Galaxy still cannot support all audio formats. Either Samsung Galaxy S4 or Galaxy S3 or Galaxy S2, they can not play the lossless audio APE, CAF, AU, AIFF and Apple Lossless ALAC.
In order to play APE, CAF, AU, AIFF or Apple Lossless ALAC, a recommended solution is to convert them to Samsung Galaxy S4/S3/S2 friendly audio formats. If you care the quality of the output audio, converting APE, CAF, AU, AIFF or ALAC to FLAC or WAV is recommended. If you do not care about the quality of the music, you can convert APE, CAF, AU, AIFF or ALAC to MP3, a versatile audio format across system and devices.
This article will guides you step-by-step on how to convert APE, CAF, AU, AIFF and ALAC to Samsung Galaxy supported audio FLAC, WAV or MP3 to transfer to Galaxy S4, S3 or S2 for easy playback.
Step-by-Step Guide to Convert APE, CAF, AU, AIFF and ALAC to FLAC, WAV, MP3 to Play on Samsung Galaxy S4/S3/S2
PrePare: Free download Galaxy Audio Converter
Free download Audio Converter for Samsung Galaxy (for Windows, for Mac). Install and launch the program.
The audio converter can not only convert APE, AU, AIFF, CAF, Apple lossless ALAC to MP3, WAV or FLAC but also can convert any audio format as you like, including MP3, M4A, MP2, AAC, AC3, AIFF, AMR, AU, MKA, ALAC, FLAC, WAV, WMA, M4B, AUD, MKA, AIFC, CAF, MPC, and QCP, etc. Also you can add popular video files to convert video to audio your needed, and extract the audio file from any favorite video with this versatile Audio Converter software.
Step 1: Import source files
Simply drag & drop your audio files to the program.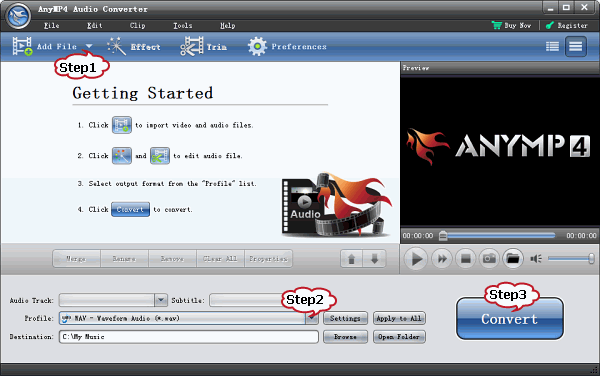 Step 2: Set output format
On the Audio Converter sreen, click on "Profile" drop-down. In the "General Audio" category choose "MP3 – MPEG Layer-3 Audio (*.mp3), or "WAV – Waveform Audio (*.wav)" or "FLAC – Free Lossless Audio Codec (*.flac)" as the output format.
Step 3: Convert APE, CAF, AU, AIFF or APE or whatever audio formats to Samsung Galaxy supported MP3, WAV or FLAC
Press on "Convert" button to start converting APE, CAF, AU, AIFF or APE, etc. to MP3, WAV, FLAC on Mac or Windows. It's that easy.