FLAC is an an open format and royalty-free coding format for lossless compression of digital audio. FLAC is specifically designed for efficient packing of audio data. It is able to reduce the size of audio data by 40–50% by taking advantage of the characteristics of audio. A CUE file can optionally be created when ripping a CD to FLAC including track order and pregap.
Usually, the FLAC file which is ripped from CD is a large complete file, not in tracks. For certain usage, we will need to split FLAC into tracks. This article introduces best FLAC Splitter to help you split, convert FLAC with or without CUE in Windows 10/8/7/Vista/XP, macOS 10.14 Mojave, 10.13 Hgh Sierra, macOS 10.12 Sierra, Mac OS X 10.11 EL Capitan, 10.10 Yosemite, 10.9 Mavericks, 10.8 Mountain Lion, 10.7 Lion, 10.6 Snow Leopard.
Part 1: Free FLAC CUE Splitter for Windows to Split FLAC by CUE
Medieval CUE Splitter is free FLAC CUE Splitter for Windows that splits a single big audio file, mostly an album or a compilation, into the relative independent audio tracks, using the information stored in its associated .CUE file; without decoding/re-encoding the data stream. Besides splitting FLAC, the free FLAC CUE Splitter also supports audio formats in uncompressed pcm WAVE, MP3, APE, OGG, WMA, MPC, WV and TTA.
Note:Medieval CUE Splitter does not have a Mac version; Medieval CUE Splitter cannot split flac without CUE file; Medieval CUE Splitter cannot convert FLAC files. Please refer to Part 2 if you have these requirements.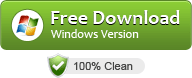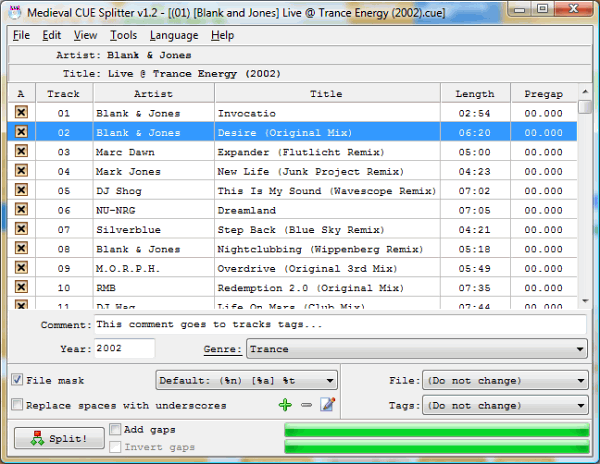 Part 2: Professional FLAC Splitter for Windows/Mac to Split, Convert FLAC with/without CUE
Faasoft Audio Converter is an professional FLAC Splitter for Windows and for Mac which can batch split CUE associated FLAC files as well as convert to MP3, WAV, M4A, WMA, Apple lossless ALAC, etc. The FLAC CUE Splitter also supports split M4A CUE, WAV CUE, APE CUE, OGG CUE, MPC, WV, TAK, TTA, AMR, AAC, AIFF, AU, RA, etc. with audio tags. Besides split audio FLAC, MP3, WAV, OGG, APE, M4A, etc by CUE, the FLAC Splitter can also split audio by file size.
What's more, Faasoft Audio Converter is more than a FLAC Splitter. It can also convert between almost all video and audio formats, convert video optimized for mobile devices like iPad, iPhone, Samsung Galaxy, extract audio from video as well as edit audio and video with built-in video editor.
How to Split CUE FLAC as well as convert FLAC to MP3, WAV, WMA, M4A, ALAC, etc. on Windows/Mac
Download Faasoft Audio Converter (for Windows, for Mac). Install and launch the program.
Step 1: Import FLAC files
Press "Add File" button to browse and import FLAC files, or simply drag and drop the FLAC files to the main window of the FLAC Splitter.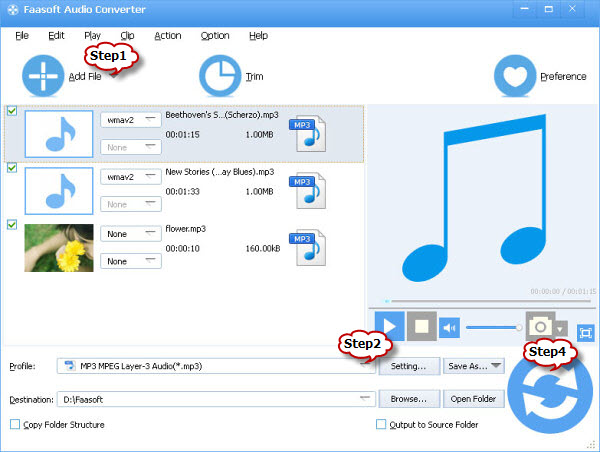 Step 2: Split FLAC
Highlight the FLAC files and open the context menu (Windows user right click the mouse; Mac user press Ctrl and click the mouse), and then select "Split by Chapter" option. The smart FLAC Splitter will automatically split and list the embedded chapters by CUE info.
Step 3: Set output format
Click on the small triangle to the right of "Profile" to choose ideal output audio format. To convert FLAC to MP3, in the drop down list, select "MP3 – MPEG Layer-3 Audio (*.mp3)" from the "General Audio" category.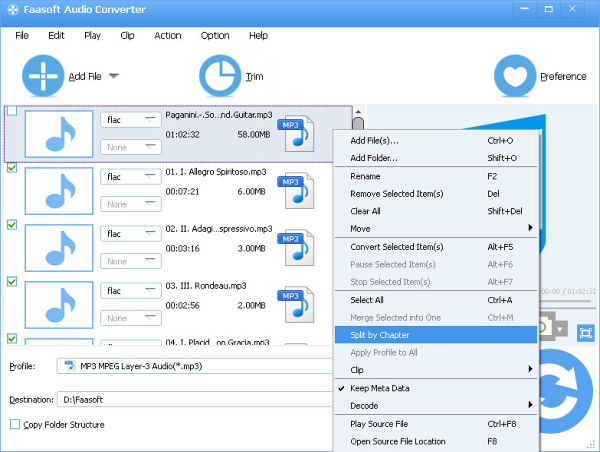 Step 4: Start Splitting and converting FLAC
Press on "Convert" button to splitting and converting FLAC files by CUE.
Related Articles
How to Convert M4B to MP3, Play, Split M4B on Win/Mac