With Windows 8 Media Center Pack, you can record TV, watch DVDs, and take advantage of other functionality that used to be bundled in with Windows 7 on Windows 8. The Windows 8 Media Center will be free to register users of Windows 8 Pro OS and who enter his product key into Microsoft's website by January 31, 2013. If you are running Windows 8 you'll still need to purchase the $69.99 Pro Pack to get the Windows 8 Media Center.
The same as Windows 7 Media Center, the Windows Media Center for Windows 8, Windows 10, Windows 11 still record TV shows in WTV format which is encoded using the MPEG-2 standard and audio using MPEG-1 Layer II or Dolby Digital AC-3 (ATSC A/52). WTV files can also with H.264 HD content.
Right-click to "Convert WTV to DVR-MS" option will be also available if you use Windows 11, Windows 10, Windows 8 or Windows 8 Pro with Windows Media Center added. However, this function of this option is so limited that it won't meet people's demands to convert WTV to MP4, AVI, WMV, MOV, MKV, MP3 with super conversion speed and batch conversion. And sometimes the option just does not work for H.264 content WTV files. Hence the release of WTV Converter for Windows 8
Introduces of WTV Converter for Windows 10/11 and Windows 8
WTV Converter for Windows 10/11 and Windows 8 is professional video converter for WTV conversion on Windows 8. It can convert DRM free WTV files with MPEG-2 video content of HD H.264 content to broad video and audio formats such as convert WTV to AVI, MP4, WMV, MPEG, MPG, MOV, MKV, FLV, 3GP, 3GPP, DivX, Xvid, MPEG-1, MPEG-2, ASF, H.264, RM, WebM, VP8, MOD, TOD, MTS, TS, 720p, 1080p, HD videos, MP3, WAV, WMA, OGG, FLAC audios on Windows 8.
WTV Converter for Windows 10/11 and WTV Converter for Windows 8 presets optimized videos for a variety of portable devices including iPad, iPad 3, iPad 4, iPhone 5, iPhone 4, iPhone 3GS, iPhone 3G, iPod, iPod touch, Apple TV, Zune, Surface, Nexus, Kindle Fire, Samsung Galaxy, Android phones, PSP, Xbox 360, Wii, Smart Phones, BlackBerry, Archos, Creative Zen, iRiver, Pocket PC, PDA, etc.
WTV Converter for Windows 10/11 and Windows 8 is also an excellent WTV editing tool on Windows 8 or Windows 10. With the smart WTV editor for Windows 8, you can remove commercials, crop black bars, split to small segments add water mark, and adjust video size, aspect ratio, frame rate, bitrates, audio channels and more.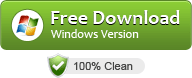 This is the main windows of WTV Converter for Windows 8 or Windows 10/11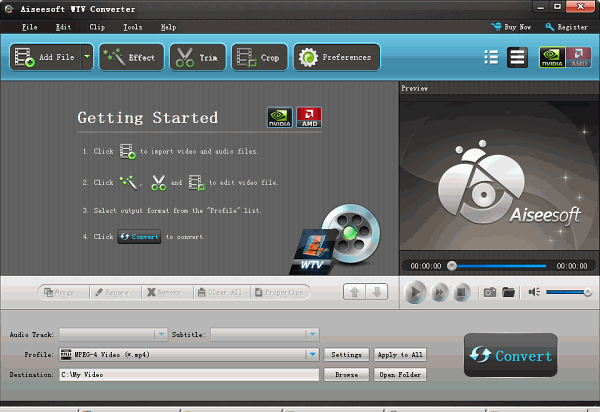 Key Features of WTV Converter for Windows 8 and Windows 10/11
Remove commercials or unwanted part of WTV files by trimming
With the WTV Converter for Windows 8, you can cut out the commercial part or any wanted part by settting the start time and the end time and start time.
Crop blackbars or unwanted areas
You can easily crop the Windows recorded TV shows to remove black bars or any unwanted video areas to focus video as well as keep aspect ratio
Merge WTV files
WTV Converter for Windows 8 can help you merge several WTV files into complete one file.
Customize video or audio parameters
The professional Windows 8 WTV Converter allows you to customize video parameters (resolution, video bitrae, video frame rate, aspect ratio) and audio parameters (audio bitrae, sample rate, channels, volumes, remove audio)
Deinterlace WTV files
Some Windows Recorded TV shows are interlaced, it is better to deinterlace during conversion for better playback. The considerrate WTV converter will perfect fullfil the task.
Audio video sync guarantee
WTV Converter for Windows 8 is improved with advaced av-sync technology. N audio video sync issue under lots of test with various kinds of WTV files.
WTV playback and preview support
The Windows 8 WTV Converter supports WTV playback as well as preview in real-time while editing video
Batch conversion with after done action
Having lots of WTV files, the WTV Converter can one-time load all your files by drap & drop the files or the folder where your WTV files are and batch them in one click. After conversion is finished, it can automatically log off or shut download your computer.
Super conversion speed, Zero quality loss
Easy to use
With the intuitive interface and smartly organized menus, all the editing and converting functions can be easily achieved within several clicks.
Multi-language support
Support multiple languages in English, German, French, Spanish, Italian, Japanese, Arabic, and Chinese
Fully compatible with Windows 11, Windows 10 and Windows 8
WTV Converter is highly compatible with Windows 11, Windows 10 and Windows 8, Windows 7, Windows XP, Windows Vista, and Windows 2000.