While iOS 7 is considered by many to be the most advanced mobile system with lots of cool new features such as the Control Center, improved Notification Center, true multitasking, all-new Camera app with filters, new Photos app, AirDrop, iTunes Radio and lots more, the software running under iOS 7 is beginning to show its age. That's why a lot of people choose to jailbreak their iPhones when Evasion team released a jailbreak tool for devices running iOS 7.
Jailbreaking iOS 7 using Evasi0n is pretty easy. The tool runs on Windows(Windows 8/7/Vista/XP), OS X(Mavericks/Mountain Lion/Lion). Download it out here and check out our step-by-step guide to jailbreaking your iPhone 5S, iPhone 5C, iPhone 5, iPhone 4S, iPhone 4, or iPhone 3GS running iOS 7 on a Windows PC below. The steps are originated from iClarified. If you use a Mac computer, you can follow this guide to jailbreak iOS 7 for your iPhone.
Step-by-Step Guide to Jailbreak iOS 7 by Evasi0n for iPhone 5S/5C/5/4S/4/3GS on a Windows PC
Step 1: Backup your iPhone before jailbreak
Connect your iPhone to your computer then perform a manual backup of your iPhone these instructions.
Step 2: Download the latest evasi0n tool
Create a folder called "Pwnage" on your desktop.
Download the latest version of evasi0n into "Pwnage" folder.
Additionally, Download the latest iOS 7.0.4 firmware for your iPhone into the "Pwnage" folder. The evad3rs suggest a full restore before performing the jailbreak.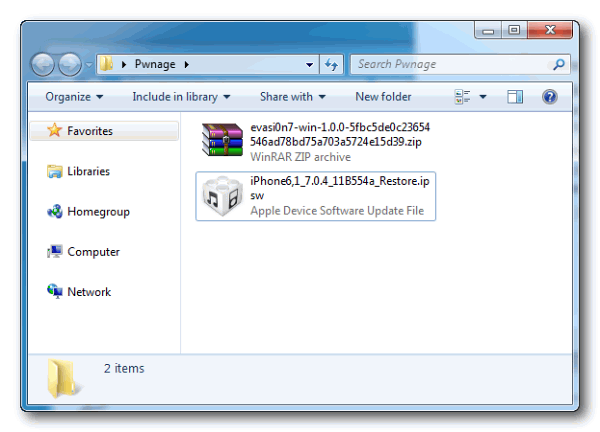 Step 3
Extract the Evasi0n zip file to the Pwnage folder on your desktop.
Step 4
Launch iTunes and select it from the left sidebar or the top right corner of the window.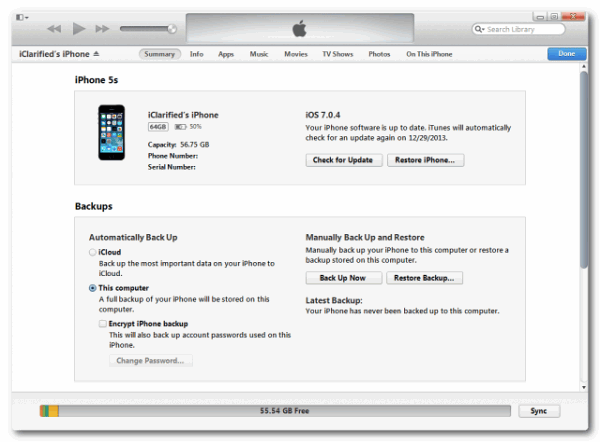 Step 5
Press and hold the Shift key and click the Restore iPhone… button.

Step 6
From the popup window that appears, select your iPhone firmware ipsw from the Pwnage folder we created on the desktop and click Open.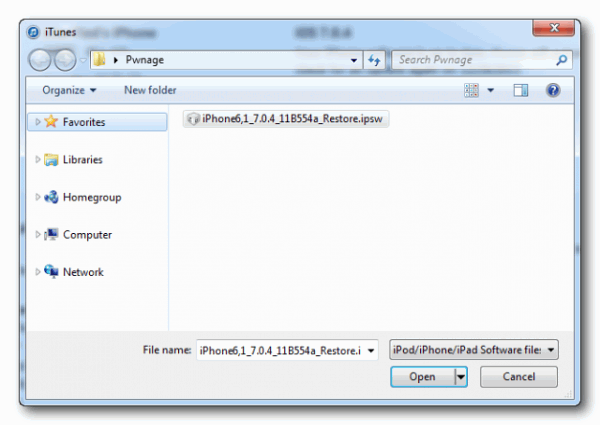 Step 7
When you are asked to confirm your restore. Please click the Restore button.

Step 8
Once your restore has successfully completed, right click the evasi0n7.exe or evasi0n7.dmg icon then select Run as Administrator from the contextual menu to launch the application.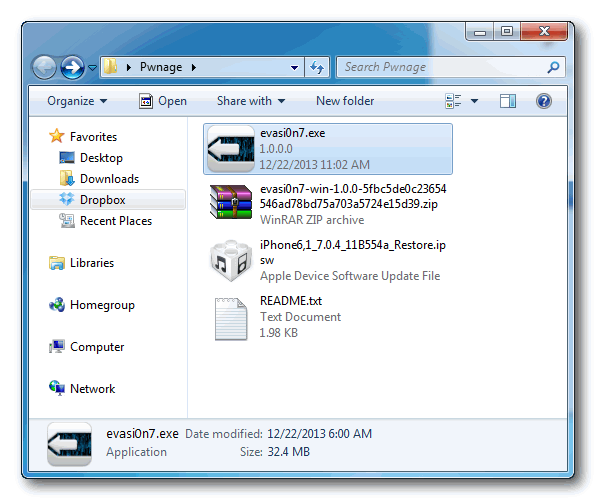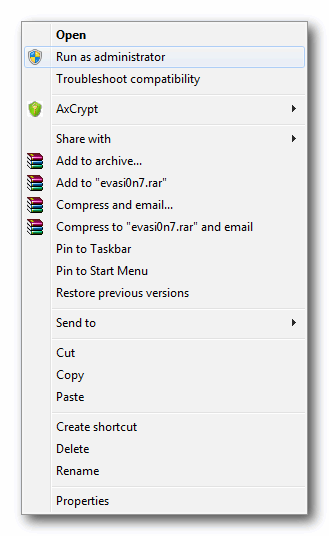 Step 9
Remove any lock screen passcodes on your device then click the Jailbreak button to begin.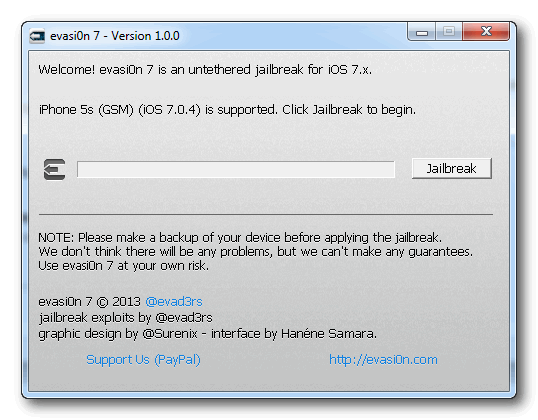 Step 10
The app will retrieve information from the device to generate jailbreak data, upload jailbreak data, inject evasi0n app 1, inject evasi0n app 2, configuring system 1, configuring system 2, and then reboot.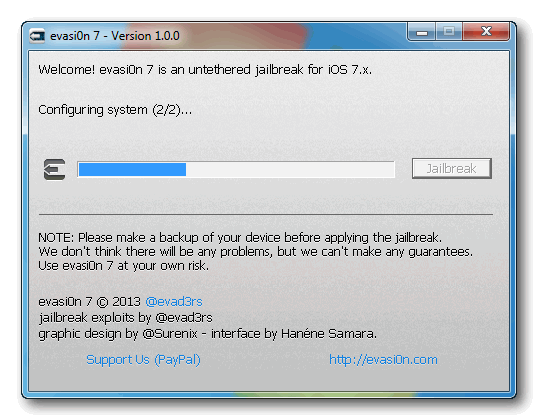 Step 11
You will then be asked to unlock your device and tap the new 'evasi0n 7' app icon. It is imperative that you only tap the icon once. The app will open and immediately close.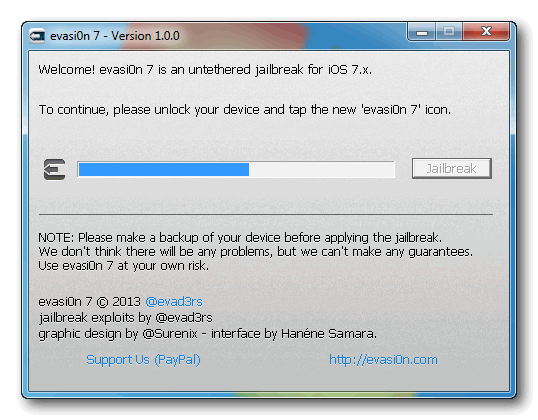 Step 12
Evasi0n will then reboot the device again, modify rootfs, and then complete!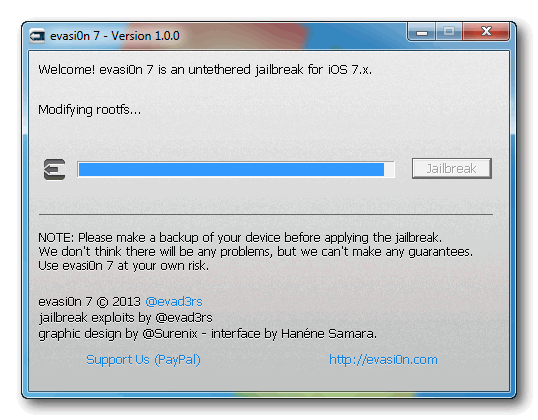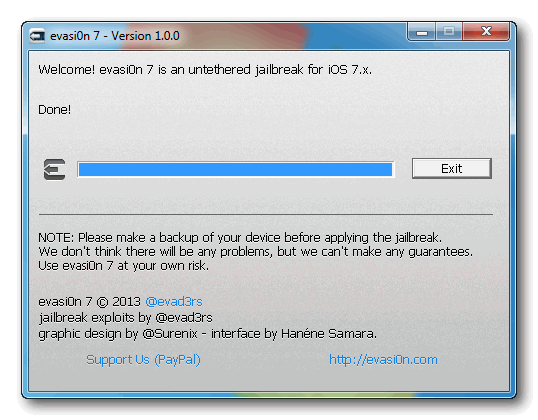 Voila! Your iPhone will now reboot with Cydia on the SpringBoard!